Patterson's California Beverage Journal, March 2003
21st Century Innovators: Ten to Watch, Ten Who Made It Big, Ten New Trendsetters

Number 1: The Debut of XXX Siglo Treinta Tequilas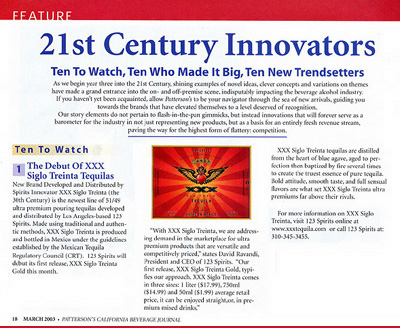 As we begin year three into the 21st Century, shining examples of novel ideas, clever concepts and variations on themes have made a grand entrance into the on- and off-premise scene, indisputably impacting the beverage alcohol industry. If you haven't yet been acquainted, allow Patterson's to be your navigator through the sea of new arrivals, guiding you towards the brands that have elevated themselves to a level deserved of recognition. Our story elements do not pertain to flash-in-the-pan gimmicks, but instead innovations that will forever serve as a barometer for the industry in not just representing new products, but as a basis for an entirely fresh revenue stream, paving the way for the highest form of flattery: competition.
New Brand Developed and Distributed by Spirits Innovator XXX Siglo Treinta (the 30th Century) is the newest line of 51/49 ultra premium pouring tequilas developed and distributed by Los Angeles-based 123 Spirits. Made using traditional and authentic methods, XXX Siglo Treinta is produced and bottled in Mexico under the guidelines established by the Mexican Tequila Regulatory Council (CRT). 123 Spirits will debut its first release, XXX Siglo Treinta Gold this month.
"With XXX Siglo Treinta, we are addressing demand in the marketplace for ultra premium products that are vesatile and competitively priced," states David Ravandi, President and CEO of 123 Spirits. "Our first release, XXX Siglo Treinta gold, typifies our approach. XXX Siglo Treinta comes in three sizes: 1 liter ($17.99), 750ml ($14.99) and 50ml ($1.99) average retail price, it can be enjoyed straight, or in premium mixed drinks."
XXX Siglo Treinta tequilas are distilled from the heart of blue agave, aged to perfection then baptized by fire several times to create the truest essence of pure tequila. Bold attitude, smooth taste, and full sensual flavors are what set XXX Siglo Treinta ultra premiums far above their rivals.
For more information on XXX Siglo Treinta, visit 123 Spirits online at www.xxxtequila.com or call 123 Spirits at: 310-345-3455.